Greater Angleton Chamber of Commerce
Welcome

Thank you for stopping by to find out more about our wonderful part of Texas! We are YOUR Chamber of Commerce, a voluntary organization of citizens who invest time and resources in a community development program that strives to improve the economic, civic, and cultural well-being of the area.

At the heart of the local economy and the backbone of the nation's economy, you'll find a chamber of commerce. Celebrating and promoting the diversity and uniqueness of their communities, chambers of commerce form the fabric of America.

Angleton, the County Seat of Brazoria County, is a thriving community that offers a small town atmosphere with many of the conveniences of a big city, the best of both worlds. Located just minutes from Houston, Angleton boasts excellent schools, affordable housing, a low crime rate, and the opportunity for families to live and work in a nurturing environment.

The Angleton Area is the peak when it comes to a great quality of life. With a strategic location on HWY 288, access to recreational parks, museums, and award-winning schools, Angleton is a town you have to experience yourself. The Greater Angleton area is the place to live and do business in Texas!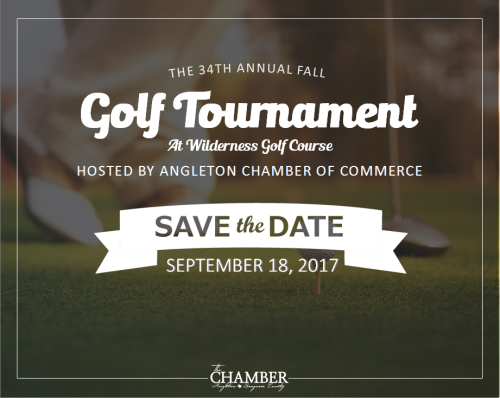 The Angleton Chamber is gearing up for our 34th Annual Fall Golf Tournament! Click Here to learn more and to sign up for a sponsorship! Don't miss the opportunity to participate in of of the largest Golf Tournaments in the area, where 144 community leaders tee off at The Wilderness Golf Course!